Products at All About Podiatry
We recommend and sell a range of foot care products.
CCS Footcare
CCS Foot Care Cream is extremely effective in the control of dry skin and cracked heels. A professionally inspired formulation, it contains Urea, the moisturiser found naturally occurring in the human body. It works with your body's defences to help keep the skin soft and supple. It also contains bactericides, is lanolin and fragrance free, and hypo-allergenic.
Simple Insoles
A custom made insole to deflect pressures from the painful areas of your feet.
Orthoses
Orthoses are a type of shoe insert that control or correct structural abnormality within the foot. They may be used to treat many conditions such as heel pain, knee pain and sports-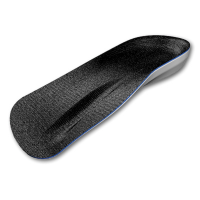 related problems. There are a number of different types of orthoses, with varying degrees of control. Orthoses are suitable for all age ranges, from children to the elderly.
Plus we have a range of foot care products available for the relief of painful feet available in clinic, you don't need an appointment to buy any of these, just pop in.